Paul Lewis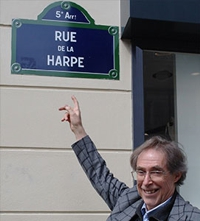 PAUL LEWIS was born into a family of professional musicians in Brighton, England, in 1943. As a child he was fascinated by history and ancient buildings, reluctantly learning the piano from the age of nine. At twelve he saw the Shakespeare films of Laurence Olivier with Walton's music and immediately realized he had to be a composer. He purposely avoided all formal training, choosing instead to leave school at fifteen and enter music publishing to find out how the music business worked from inside.
From the age of nineteen his orchestral pieces were recorded as production library music and found their way into the cinema newsreels of the day, and at twenty he became Assistant Musical Adviser to ABC Television, one of the larger British Independent Television companies. Within months he had composed his first score for a major TV drama, since when he has scored over 150 series' and one-offs as well as being the subject of a half-hour ITV documentary. His TV work ranges from high drama with Orson Welles, Peter O'Toole, Christopher Lee and Celia Johnson to international award-winning children's comedy - ('Woof!') - by way of Benny Hill and Monty Python! Many of his early library compositions are still sought after and can be heard in many current popular series, such as 'Spongebob Squarepants' and 'Antiques Roadshow'.
In 1997 Lewis was declared one of Britain's 'Legends of Light Music' in Denis Norden's BBC Radio 2 series of that name, and in 2011 his music was featured twice in BBC Radio 2 and 3's "Light Fantastic - the Best of British Light Music" festival.
In addition to his prolific TV output Lewis has produced a catalogue of over ninety published concert works ranging from concertos, orchestral overtures and string suites to chamber music and compositions for solo instruments, notably for his favourite instrument, the harp. Several harp works, flute pieces, a bassoon and piano work and his 'Concerto Burlesco' for bassoon and small orchestra are included in the Associated Boards and Trinity Examination syllabuses. He has conducted entire concerts of his own music, including world premieres of newly commissioned works, in America, New Zealand, Italy and Turkey, and was the subject of a day-long celebration at the Ecole Nationale de Musique at Mantes-en-Yvelines on the outskirts of Paris. A selection of his concert works can be found in various CD series' alongside the music of other English composers such as Arnold, Delius, Holst and Vaughan Williams, and are broadcast around the world, with regular airings on Classic FM Radio in England and Radio NZ Concert in New Zealand.
Lewis has also released a CD of themes and suites from his television scores with the Royal Ballet Sinfonia, 'Three Decades of TV Themes', and 'Serenade and Dance', a CD of his harmonica chamber music with soloist James Hughes, both in the Campion Cameo British Composer Series. A CD of the original soundtrack recording of his large-scale orchestral score for the 1972 HTV series 'Arthur of the Britons' is on Silva Screen, his Maori collaboration 'Legends of Rotorua' is on Atoll Records and 'Heritage and Landscape', a collection of orchestral pieces recorded mainly in the 1970s and 80s, and a CD of solo harp works with charismatic international soloist Gabriella Dall'Olio will be out soon on EM Records.
In April 2017 'Seaside Concerto' for Mighty Wurlitzer and orchestra, a celebration of the vintage seaside music Lewis heard his family playing all along the Sussex coast in his younger days, was premiered to an enthusiastic audience by soloist Richard Hill with the Worthing Symphony Orchestra conducted by John Gibbons, who commissioned the work. Plans are afoot for a recording.
For four years after meeting in 2007, Lewis and his wife, soprano Sharon Elizabeth, divided their time between England and New Zealand, and in addition to his many composing commitments, Lewis is Sharon Elizabeth's piano accompanist in everything from operatic excerpts to very naughty cabaret! Forget-Me-Not Cabaret.com They have performed at arts festivals in New Zealand and the UK, with regular seasons in the Napier Art Deco Festival, Hamilton Gardens Summer Festival and Brighton Fringe Festival. The soprano part in Lewis's score for the 2009 BBC TV documentary 'Napoli, City of the Damned' was written for Sharon Elizabeth, as were the vocal parts in the New Zealand commissions 'Legends of Rotorua' and 'Jazz at the Movies'. Together they have recorded a CD of popular songs from the 1920s/30s and cabaret songs in vintage style by Lewis from Sharon Elizabeth's one-woman show 'Forget-Me-Not', and another of banned and risque songs of the 20s/ 30s from her show 'Forget-Me-Not Wears the Trousers'.
Paul Lewis also enjoys giving his anecdotal 'Memoirs of a Media Composer' talks. He has informed and entertained music colleges and universities in America, France and New Zealand and is a regular speaker for the Women's Institute and other societies in the south of England!
Lewis's parallel life has been the pursuit and study of mediaeval and renaissance art and architecture in England and Europe. He has restored three houses of the period using ancient building methods, culminating in the fourteen-year recreation of an early Tudor courtly interior at the splendid courthouse built by Margaret Beaufort, mother of Henry VII, at Martock in Somerset. Paul and Sharon now live in a beautiful Tudor timber-framed house near the sea in Sussex.
The spectacular rediscovery of the remains of Richard III in a Leicester car park in 2012 was a cause of celebration for Lewis, who, since having been inspired to become a composer at the age of twelve by LaurenceOlivier's film of Shakespeare's "Richard III", has held a lifelong fascination with the true character of this greatly maligned king. The discovery inspired Lewis's 'Fanfare for King Richard III' for brass and percussion, the premiere of which he conducted in York Guildhall on March 26th 2015 to coincide with Richard's reburial in Leicester. This in turn led to a commission for a 23-minute work, 'Threnody for Violin: The Most Famous Prince of Blessed Memory' for a concert in Richard's honour in Middleham Church as part of the English Music Yorkshire Festival in September 2015. The fanfare has been recorded by the Royal Ballet Sinfonia (Heritage Records 'British celebration 2') and 'Threnody' has been recorded by Rupert Mashall-Luck ('Richard III' on EM Records) and will be featured in a DVD filmed at Middleham, on which Lewis also appears.
Source: www.paullewiscomposer.com (2017)