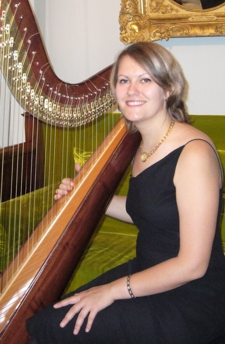 Sandrine Luzignant (harpist, arranger and composer)
Born in NICE (France) in February, 1976, Sandrine comes from a musical family.
She started to learn the harp when she was 5 years old and later attended the NICE CNR (music academy) where she studied harp with Elizabeth FONTAN-BINOCHE and music harmony with her father Jean-Louis LUZIGNANT. She obtained Diplômes d'études musicales (diploma certificates) in harp and music theory.
After further studies Sandrine also obtained Diplômes d'Etat (diploma certificates) from Aubagne Academy, Cefedem-Sud, again for harp and music theory. At the same time, she earned her musicology degree from NICE university (UFR).
As an arranger, she has written for many different ensembles in the "Côte d'Azur" including Harpissimo and The Riviera Quartet. Sandrine is a member of number of ensembles including the trio "Supplément d'ämes", Duo Harpal and Trio Elizabeth FONTAN-BINOCHE for whom she arranges and composes, as well as playing the harp."