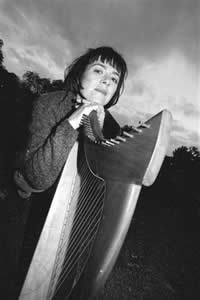 A graduate and prizewinner of the Royal Academy of Music, Margaret now pursues an international solo career specialising in singing to her own harp accompaniment.
Margaret has performed for Russian Television in the winter palace of Peter-the –Great; in Japan for the Empress at the Soka harp festival, Tokyo; in America for the North American Jane Austin Society conference; in Istanbul, playing on a steam ship for Turkish celebrities and European journalists; in Scandinavia and Germany where she took her harps to parties! Margaret also visits Australia, Tasmania and New Zealand every spring to give concerts and master classes.
For the For BBC Radio, Margaret has composed and performed music for Radio Dramas as well as being featured in her own right on radio 4's The Afternoon shift and Desert Island Discs for the A B C. Margaret has recorded the sound tracks for many films - she was the hand-double for Kylie Minogue in Jim Hensons' 2005 "Jack and the Beanstalk" recorded at Elstree Studios!
In 2006 and again in 2008,along with other well known British musicians Margaret was invited to Buckingham Palace to cellebrate her services for British music . She is no stranger to The Royal Family, as she has played in the presence of The Queen and Prince Phillip, Princess Anne, Princess Dianna and Prince Andrew. She is the resident harpist for Warwick Castle, and recently played for the Home Office and their European counterparts in the Queen's state dining room.
Margaret has enjoyed passing on her skills to young students, and has developed a harp school on the lovely Island of Jersey in the Channel Isles as well as her private pupils at home. She has tutored in workshops and given many demonstration recitals worldwide.