Inge Frimout-Hei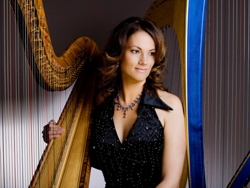 Though she initially learned to play the Piano, her heart was with the Harp. She studied Harp at the Royal Concervatory in The Hague with Edward Witsenburg. Also, she followed singing courses with Gerda van Zelm and Jeanne Compagne. Inge studied South-American harp and song with Jopie Jonkers and celtic harp and song with Anne Macdearmid. She took masterclasses with Alice Giles, Francis Kelly, Harvi Griffin, Carrol Mclaughling, Park Stickney and Jakes Francois. She studied composition with Eric Swiggers and Stan Bakermans.
Inge has given many recitals with Voice and Harp in The Netherlands, Belgium, Luxemburg and beyond. Her first solo CD "Travel with the Moon" was released in 1999. This was followed by "Kyra & Max" in 2002 with a combination of Celtic, Dutch (e.g. Herman van Veen and Jacques Brel) and south-American songs (e.g. Nuestros Sueños from Alfredo Rolando Ortiz). Besides these solo performances, Inge forms the duo "Stafford & Power" with guitar & concertina player Pieter Thijssen.
In addition to her longtime experience in teaching students at several music schools, Inge has experience in leading various workshops based on one of her music publications. Inge developed the teaching method "Start & Harp" and published the celtic harpbooks "The Harp That Once" and "Bonny Portmore".
She composed two works for Harp ensemble: "Blue Planet" and "Flidias and the Magic Harp". Together with Jopie Jonkers she developed "Arpa Latina", a method to learn playing the South-American Harp. In 2007 Inge performed in the Musical "Dreaming in the Park with Alice",