Osian Ellis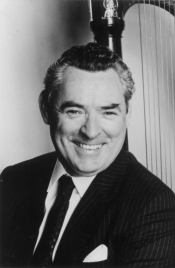 "He is a harpist of God's Grace - a wizard at his harp and a true musician ..." (Gothenburg Post) is a brilliantly apt summation of the talent, art and artistry of the man who is undoubtedly Wales's greatest harpist of the twentieth century.
Born in Ffynnongroyw, Flintshire, North Wales on 8 February 1928, Osian Ellis studied at London's Royal Academy of Music, where, on the retirement of his teacher, Gwendolen Mason, he became a highly influential professor from 1959 until his retirement in 1989. He was principal harpist with the London Symphony Orchestra from 1961, and a member of the Melos Ensemble from its inception.
He also had an important solo career, inspiring concertos both by his compatriots Alun Hoddinott (1957) and William Mathias (1961), and by, amongst others, William Alwyn, Jörgen Jersild and Robin Holloway. In 1977 he was the dedicatee of a Cantilena e Scherzo by Gian Carlo Menotti, but his most significant association has been with the music of Benjamin Britten, whose Suite in C op 83 (1969) has become a classic of the harp. His many awards include a CBE (Commander of the British Empire) awarded in the Royal Honours List of 1971, and an honorary Doctorate (D Mus) and an honorary Fellowship of the University of Wales (1970 and 2000).
Osian Ellis has always been aware of his Welsh heritage, and his delightful arrangements of Welsh folksongs and his settings of medieval Welsh poetry in the strict metres set in the unique traditional Welsh art known as Cerdd Dant have enchanted audiences the world over, both on disc and in the concert hall.