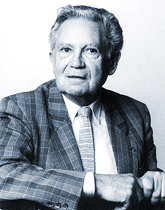 Born in Bordeaux on the 27th January 1928, Jean-Michel Damase naturally turned to music. He was brought up by his mother, the harpist Micheline Kahn, initial performer of Fauré's Impromptu and Ravel's Introduction et Allegro among other works.
At the age of five, he took up the piano and the rudiments and theory of music at the Ecole Samuel-Rousseau. At nine, he produced his first score, setting to music poems by Colette, whom he had just met at a Parisian salon. In 1939, under the title Enfants prodiges et enfant prodigieux (Child prodigies and prodigious child), the novelist published a paean of praise for her young, eleven-year-old protégé in Paris-Soir.
Discovered by Marguerite Long - who had him perform publicly at the Children's Pavilion at the Universal Exhibition of 1937 - at twelve, he began to study under Alfred Cortot at the Paris Ecole Normale de Musique. Damase entered the Paris Conservatoire in Armand Ferté's class where he was unanimously awarded the First Prize for piano in 1943. Two years later, he was admitted to Henri Busser's composition class and studied harmony and counterpoint with Marcel Dupré.
At nineteen, he won the First Prize for composition with a Quintette, and the Premier Grand Prix in Rome for the cantata Et la belle se réveilla. "I had no wish to go to Rome," he admits. "But as my classmates were entering, I wanted to try. During my stay at the Villa Medici, I decided to concentrate on composition. Nevertheless, I continued the piano for the French repertoire alone, and so was able to win the Record Grand Prix in 1960 with the first complete version of Fauré's Nocturnes and Bacarolles." Although deliberately limited, his career as a pianist proved successful and, apart from his recitals, he appeared as a soloist with the Colonne Orchestra, the National Orchestra of the O.R.T.F. (French national television and radio) and the Conservatoire Concert Society.
Damase's works in his early mature period revealed the technical ease of the young composer. He produced a large quantity of music with an attractive and elegant style, reflecting the teaching of the Conservatoire. Rapidly accepted among his peers, Damase was supported by Henri Sauguet and Tony Aubin.
All his work reveals an intimate acquaintance with instrumental capacities. His orchestration is full and colourful, but he favours chamber music, particularly for wind instruments (Quatre divertissements for flute and piano, Hommage à Klosé and 15 études dans le style français for clarinet, Azur for saxophone and piano, Aspects for horn and piano, Prélude, élégie et final for trombone and piano, Quatuor de flûtes, Suite pastorale for three flutes, etc.), small ensembles (Casino et lutheries for flute, harp and string quintet, Rondo, Guitare, Cavatine, etc.) and concertante pages (a Concertino for piano and string orchestra that he is particularly fond of, a Rhapsodie for flute and string orchestra) and also scores designed for teaching (Scherzando for junior orchestra, Suite en sol for junior string orchestra, Cinq petits dialogues for marimba and harp or piano).
Apart from chamber music ensembles, Damase has devoted himself to dramatic music. He wrote his first ballet for Roland Petit, La croqueuse de diamants (1950), then the Marquis de Cuevas - for whom he took up conducting - commissioned Piège de lumière (1952) from him. Along with Balance à trois (1955) and La Boucle (1957), this work forms a choreographic trilogy.
His encounter with his neighbour Jean Anouilh led him to turn his attention to the theatre and lyrical art. "As I liked his drama," he recalls, "I finally asked him for permission to compose a lyrical work drawn from one of his plays. 'What do you see in it?', he asked me. 'It's just a farce... What sort of music are you going to set it to? I can't see it myself! Start work, play me an act and I'll tell you if it's possible.' That's how I wrote Colombe (1956), then Euridyce (1972) and Madame de (1970), that he had adapted from Louise de Vilmorin, and he asked me to handle the stage music for La petite Molière and Directeur de l'Opéra."
Another lyrical work, La tendre Eléonore, an 'opéra bouffe' written to a Loys Masson libretto, was first performed on the 10th March 1962 at the Marseilles Opera. To this group of dramatic works should be added the Onze Psaumes de David for solo baritone, choir and wind orchestra (1985).
All this sums up his immediately accessible music, a music which Damase himself ascribes to French tradition: "basically music that is cheerful and singing, but also enriched with a certain nostalgia and a little depth." When asked why he has remained loyal to tonality, he laughingly replies: "I'm loyal by nature."
Bruno Serrou - Courtesy of Gerard Billaudot