Lawson Dando (piano)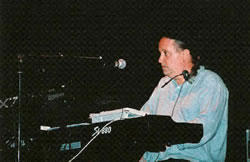 Lawson Dando is a Musician and Producer with some 30 years experience. He tours at home and abroad with the legendary Incrediblestringband playing Piano, keyboards, Indian harmonium, Acoustic guitars, electric bass and many other exotic instruments including an African lyre.
He will shortly be producing a new live String Band album which is to be recorded at Peter Gabriel's Real World studios and mixed at Albany.
He has written produced music for TV Radio and corporate projects over the years and has experience in many styles. Lawson has also produced many albums, please see the discography at www.albanystudios.co.uk. He recently joined Mike Heron on the Futurefields Album and subsequently released his first solo piano album Midnight Huws.