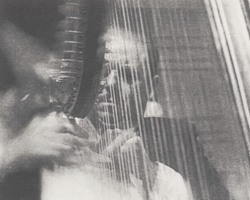 Obituary - Los Angeles Times
19th June 2002 - Stanley Chaloupka, 80; Former First Harpist of L.A. Philharmonic
Stanley Chaloupka, 80, first harpist for the Los Angeles Philharmonic from 1943 to 1983, died Friday at Glendale Memorial Hospital of causes linked to aging.
Born in Oakland and raised in Gilroy, Calif., Chaloupka said he "became entranced" by a harp concert when he was 8. Two years later, his father began driving him 69 miles each way to take harp lessons in San Francisco. By age 16, the youth was playing with the San Francisco Opera and Civic Light Opera orchestras.
After moving to Los Angeles, the young man was hired by the Los Angeles Philharmonic as first harpist in 1943. His late wife, Paula, was second harpist for many years, and the two performed concerts together. A Times reviewer noted after one duet recital in 1952 that "the ensemble playing of the pair was indeed flawless.... One would be hard put to decide who of the two plays better."
Chaloupka told The Times in 1961 that handling the 100-pound harps could be difficult. "Harps are fickle. We spend hours tuning them," he said. "It's like driving a Model T: You've got to have brains in your feet."