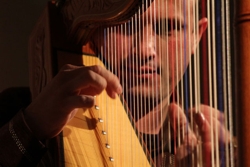 "Paraguayan music was always sounding at home and my parent´s dream was that I learned to play the harp. It was my mother who got me closer to this instrument and since then it exerts a magical attraction for me", relates Sixto Corbalán when he is asked to tell about how he choosed the harp. Nowadays he does magic with his instrument and is indicating a new path for the music for paraguayan harp.

The beginning with his instrument was marked by recognized interpreters of the paraguayan harp. With Prof. Carlos Shvartyman he deepened his knowledge about modern harmony and orchester arrangements, however, without any doubts the admiration towards Master Nicolás Caballero contributed most to develop is owne style. With Caballero he incorporated the modern techniques like the use of the two keys in the left hand to generate half tones. With this technique the paraguayan harp, which is normaly tuned to an diatonic scale, rised up to an chromatic level and here is where Sixto starts to use the whole range of cromatic sequences in his own compositions.

Sixto Corbalan honors the musical legacy for this 36 strings, but music allways reflects the time their creators live in and so, Sixto fits his compositions to the young feeling of today´s music for the Paraguayan Harp. Keeping in mind his traditions he presents a contemporary paraguayan music which reflects the global world we are living in. Looking always beyond the borders of his country he integrates in his compositions elements of other genres giving new vitality to the traditional tunes and a sensitive expression to his own creations. Eloquent proof of this are his themes "Susurros de la Noche" (Whisper of the night), "Fantasías de Pérez" (Phantasy of Perez),"Brisas del Este" (Eastern Winds) and others which awake listener´s phantasy because one don´t only hears, but also sees and feels what Sixto describes and tries to transmit in every composition. "The harp is like another language more for me, my way to comunicate my perceptions, my experiences and my feelings."

As interpreter as well as composer he won traditional Festivals in his country and deserved a number of awards and recognitions (Festival del Takuare' ẽ -1996; Honorable Mention at Festival Rochas del Arpa – 1997; Young Voices (Voces Jóvenes) – 1999; Olimpiadas Culturales – 2002, Reward of "Outstandig Youth" by the Asunción Junior Chamber – 2003; Festival of the Barboza Foundation – 2005 and Winner of the First Composing Competition for Paraguayan Harp organized by the Office of Festival Mundial del Arpa en Paraguay- 2008).

He also spreads with great enthusiasm new creations of actual composers. This is a quiet interesting aspect of his work because by this he creates more space for new tunes y new composers.

The number of performances on international venues extends to Argentina, Brazil, Chile, Uruguay, Bolivia, Portugal, Spain, France, Italy, Germany, Netherlands, Belgium, Corea, Taiwan, Japan, with highlights as concerts at Sughinami Kokaido in Tokio, Museum of Arts in Kyoto, Merpark Hall in Nagano, Canning House London, Memorial América Latina in Sao Paulo, TFF Rudolstadt, Germany, Teatro Municipal in Viña del Mar, Chile, Encontros Niterói América do Sul, Brasil and a tour in Germany in North Rhine Westphalia.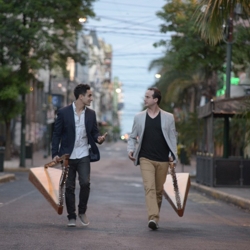 HARP DUO "HERMANOS CORBALAN"
Since 2007 Sixto and his brother Juanjo Corbalán conforme the harp duo "Hermanos Corbalán". This conformation is just unusual even in Paraguay, but is gaining interest also on international scenes having a special focus on new compositions for the Paraguayan Harp and the mixing up of different musical genres. Both brothers are excelent harpists and inovating composers enhacing the musical versatility of today with an actual and renewed repertoire which without any doubt gains special atention as harp duo. Their investigations and excursions to other genres turn this harp duo into a perfect harmony with an amazing sound.
Courtesy of www.sixtocorbalan.com.py/