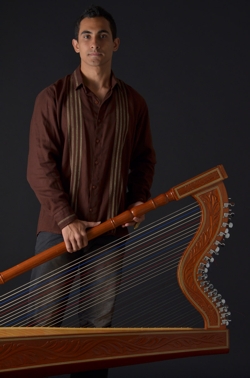 Juanjo has developed a very special style which integrates all the influences perceived during his artistic career which is just booming.
Born in 1991 in Asunción, Paraguay and following the steps of his brother Sixto he starts playing harp with him at age 8, growing up as harpist by the hand of different recognized harpists.

He achieved several awards as best interpreter on important national festivals like Festival del Takuare´ẽ (2006) and the Festival Paraguayhaicha (2005) and others. In his permanent search for innovation and adjustment of the paraguayan music to the actuality he studies with Master Nicolas Caballero, integrating his techniques in his musical language. At the same time he is approaching harmony and improvisation with Professor Carlos Shvartzman.

With his very personal style which reflects in his compositions, he achieves a number of awards as composer and wins the First Composing Competition for Paraguayan Harp organized by the Office of Festival Mundial del Arpa en Paraguay (2008) with his theme"Disturbios" (Disturbances).

Performances on various international venues may proof his artistic qualities: in Argentina, Brazil, Chile, United Kingdom, France, Germany, Spain, Poland, Serbia, Hungary an others.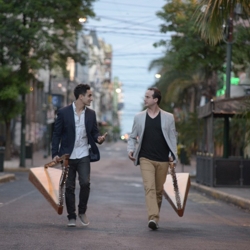 HARP DUO "HERMANOS CORBALAN"
Since 2007 Sixto and his brother Juanjo Corbalán conforme the harp duo "Hermanos Corbalán". This conformation is just unusual even in Paraguay, but is gaining interest also on international scenes having a special focus on new compositions for the Paraguayan Harp and the mixing up of different musical genres. Both brothers are excelent harpists and inovating composers enhacing the musical versatility of today with an actual and renewed repertoire which without any doubt gains special atention as harp duo. Their investigations and excursions to other genres turn this harp duo into a perfect harmony with an amazing sound.
Courtesy of www.sixtocorbalan.com.py/