Cheyenne Brown
Scottish Harp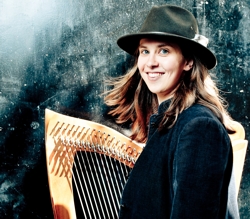 Cheyenne Brown is from Alaska but has been based in Scotland for the past nine years where she has studied the Scottish harp from both a performance and a research perspective and works to perform and teach the Scottish harp locally and abroad. She recently released her debut solo album, Parallel Latitudes, in autumn 2011. Nominated for "Roots Album of the Year" by the Scottish New Music Awards, the album highlights the connections not only between Scotland and Alaska, but also music from a variety of sources, all connected by a stream of infinite Earth-circling lines of parallel latitudes.
"Consummate skill… stunning self-penned tunes… Cheyenne displays that envied empathy with both instrument and music that few achieve." -Folkwords album review
"Eclectic and contemporary… creative and atmospheric modern use of the harp… Rhythmically rich… improvisational derring-do… energetic elements balanced aplenty with elegance and sensitivity." –Living Tradition album review
"A musical force to be reckoned with as well as a harpist of great dexterity." -Folking.com album review
"Beguiling harp playing, subtle but full of spirits." –Folk World album review
"the most beautiful unaccompanied harp… what great musicianship." -Danish Irish Society album review
Cheyenne performs and tours with a variety of groups. The North Atlantic Trio, with harp, dobro and percussion, combines Scottish, Appalachian and bluegrass music in a unique cross-genre bricolage. She also works with the seven-piece German-based band Homebound. Her Scottish music duo with cellist and Scots singer Seylan Baxter has toured in the US, Germany, Italy, Belgium, Spain and the US and extensively throughout the United Kingdom. The 2007 release of their debut CD, 2:forty was enthusiastically received.
Cheyenne gained an Honours degree in Scottish music from the Royal Scottish Academy of Music and Drama in Glasgow in 2006, where she had a full scholarship from the Associated Board of Music. In November of 2009, she was awarded an MSc in Scottish Ethnology from the University of Edinburgh. The research-based masters degree allowed her to carry out fieldwork in never-before studied areas of the Scottish harp. She is in high demand as a harp tutor on both sides of the Atlantic, having taught for the Ohio Scottish Arts School, Washington Area Folk Harp Society, and Common Ground on the Hill (US), as well as the Gaelic College at St Ann's in Cape Breton. In Scotland she maintains a full rota of private students as well as teaching at events across the country.