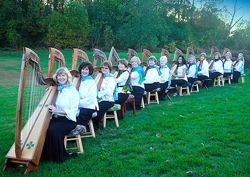 The ensemble was organized in 2000 by Janet Witman, a nationally recognized harpist, teacher and arranger. The harp orchestra consists of 15 harpers of diverse ages with seasoned harp skills and extensive musical backgrounds from the Brandywine Valley of Southeastern PA, DE and MD.
Their programs feature the many talents of its members- choreographed dancing, solo and choral singing, poetry, percussion, storytelling, original compositions and special musical guests. They have delighted audiences at Longwood Gardens, Mt Gretna Tabernacle, the Everett Theater, the American Harp Society 2004 National Conference, Smyrna Opera House, Williamsburg Scottish Games, and Beginning in the Middle Harp Conference and over a hundred church and community concert series. They have produced two best selling Cds.
In 2009 they were the first American celtic harp orchestra to perform at the Edinburgh International Harp Festival in the festival's 29-year history. In August 2010 they were featured playing with the Kennett Symphony at Longwood Gardens to a sell out crowd.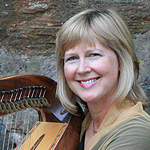 Music Director Janet Jackson Witman
Janet Jackson Witman is known for her ability to successfully crisscross the realms of classical and celtic harp music. Her classical training began as a young girl, and eventually took her to the Curtis Institute of Music in Philadelphia. She earned a Bachelors of Music Degree under full scholarship studying under Marilyn Costello of the Philadelphia Orchestra. Janet also studied with the legendary Alice Chalifoux at the Salzedo Harp Colony in Maine, and with Maria Lorcini of the Montreal Symphony. She earned teacher certification at West Chester University.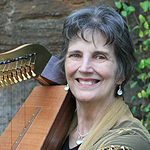 Fran McGaughey
Fran graduated in 1957 from McMurry College in Abilene, Texas. She also attended North Texas State University, and taught school in Irving, Texas. In 1985 she earned a degree in Music Performance from West Chester University. When she discovered the Celtic Harp, her life took an abrupt turn. She now lives to compose, arrange and play in the Brandywine Harp Orchestra and other ensembles, who perform many of her arrangements and compositions. Fran has published a collection of original music titled Wind Whispers From a Harp, which is available through Melody's Music. Her arrangement of Let All Mortal Flesh Keep Silence is featured on Brandywine Harps CD Christmas Crossings.