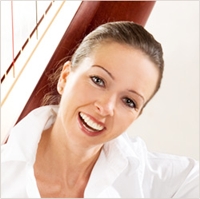 Ekaterina Afanasieva, concert harpist and a prize winner of international music competitions.
She graduated her study "Master of Music Degree in Performance" with distinction in Moscow and completed her postgraduate study in the Conservatoire of Hamburg with the highest award.
Based in Germany as a freelance harpist she performs in Europe, USA, Middle East and around the world.
As an orchestral harpist she played with the "Youth Symphony Orchestra" (Moscow, Russia), "Hamburg Philharmonic State Orchestra" (Hamburg, Germany), "Symphony Orchestra of Voralberg" (Austria), Southwest German Philharmonic Orchestra" (Konstanz, Germany) and others.
Her extensive repertoire includes compositions of classical masters, Jazz Standards, Musical, Opera, christmas, popular and celtic music. She plays regularly for numerous private functions, international festivals, corporate events, receptions in luxury hotels and on board of the cruise ship.
Her performances are the perfect harmony of skill and virtuosity, musicality and interpretation, professionalism and charm.
She has released several solo CD´s available on the "Arpa Nueva" records label.