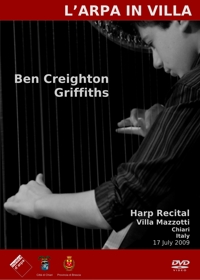 On 17th July 2009 13 year old Welsh harpist Ben Creighton Griffiths gave a solo harp recital at Villa Mazzotti, Chiari, Brescia, Italy as part of "L'arpa e La voce in Villa" organised by Clara Rocco of Musica d'arpa, Milian. The concert was recorded by Rosangela Bonardi (www.blogarpa.it) and is reproduced on this DVD as a single chapter with no edits.
Buy this album now DVD: £10.00+ p&p
"With very grateful thanks to Clara Rocco, Anna Loro & Elizabeth Fontan-Binoche for inviting me to Chiari and to Rosangelea for making the video."
This Limited Edition DVD (1,000 copies) is in aid of travel costs to attend 11th World Harp Congress, Vancouver - July 2011 & The Rio Harp Festival, Brazil - May 2011. In November 2008, as he was working on the repertoire for this DVD, Benjamin was invited to give a recital at the 11th World Harp Congress, Vancouver July 2011. The World Harp Congress does not pay any fees, travel or accommodation costs for harpists performing at the Congress but often the harpist's own Arts Council will assist in these costs. The Welsh Arts Council will not allow Ben to apply for a competitive travel grant because he is under 18 years old. So instead Benjamin hopes to help fund his trip to Canada and his return visit to the Rio Harp Festival by selling copies of this limited edition DVD.