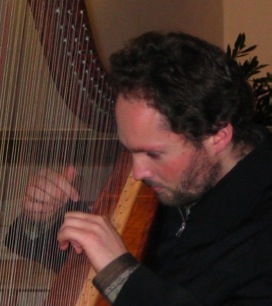 Sleeve Notes
No Pedals Attached
'No Pedals Attatched' is an exploration of music from 1550 through to the present day, played on the triple harp. Originally invented in Italy at the beginning of the 17th century as a means of making the harp chromatic, the triple harp celebrated a brief popularity in Italy in the accompaniment of early opera and as a solo instrument.Within a couple of generations it would make its way through what is now Germany and France up into England where William Lawes included the triple harp in the scoring of his 'Harp Consorts'. A century later Handel would write his Harp concerto.Later in the 18th century, the newly invented pedal harp would supersede the triple harp and the English triple harp was adopted by the Welsh as their national instrument.
While the harp was considered a perfect instrument in the Renaissance and Baroque periods, its repertoire was far from it, and as a consequences it was common practice for harpists to borrow music from a variety of sources and arranging the music as necessary. The pieces by Narvaez and Mudarra were originally written for the vihuela and the suites by De Visee and Bach have been borrowed from the theorbo repertory. The Welsh pieces were originally conceived for the triple harp, whilst the Dussek, Granjany and Glinka were originally written for the pedal harp.
The title of the CD plays on the fact that the triple-strung harp doesn't have any pedals, unlike its modern sister, the pedal harp. Instead it has three rows of strings with the two outside rows tune diatonically to each other in the most convenient key with the sharp and flats sandwiched between the outside rows. The harp used for this CD project is based on an italian arp a tres registre, from the 17th century, but has a modern soundboard and box, and thus is somewhat of a cross breed.
I'd like to dedicate this CD to my family, especially my father, Dr. David Ward, for having the patience and the skill to build my first harps, and for the encouragement in later years to build and teach myself to play the triple harp, and to my partner in life and crime, whose enthusiasm, love, and support is never ending. I'd also like to thank Dr. Mike Parker for all of his invaluable advice and assistance over the years, Dr. Celia Briar whom introduced me to the harp in the first place, Carolyn Mills of whom I was a student for many years, as well as Euan Murdoch, Bernard Wells and Douglas Mews for their invaluable musical insight whilst I was completing my Masters programme.
Robin Ward, Jan 2009.