Sleeve Notes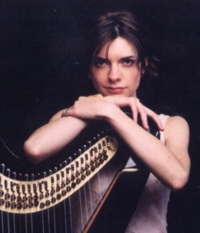 Catrin was born in Llanon, Ceredigion, in 1980 and was brought up in this small village on the edge of Cardigan Bay where she attended the local primary school.
On her sixth birthday, she was given a Celtic Harp as a present and started taking lessons with Delyth Evans in Aberystwyth. But her teacher soon realised that here was no ordinary talent. When she was eight years old, Catrin was introduced to leading Welsh harpist Elinor Bennett who became her teacher for the next eight years. By the time she was 9, she had passed Grade B with distinction.
Catrin was 10 years old when she joined the National Youth Orchestra of Great Britain and later that year became the youngest member of that orchestra to play at a BBC Promenade Concert in London's Albert Hall. She won first prize in the junior section of the World Harp Festival in 1991 and three years later, still only 14, she came second in the festival's adult section.
When she was 16, Catrin left Ceredigion to attend the Purcell School in London where she studied with Skaila Kanga who continued as her tutor when she moved to the London Academy two years later. It was at the Academy that she got a call from Buckingham Palace, inviting her to fill a long-dormant position; that of Royal Harpist to HRH The Prince Of Wales. It had not been filled since a fellow Welshman held the post in 1871. Catrin accepted the invitation which involved performing at both public and private events in Buckingham Palace, Windsor, Highgrove House and St James Palace.
At the official opening of the second term of the National Assembly of Wales in May 2003, Catrin played the harp as the Royal family arrived at the Cardiff Bay building. She had to relinquish her role as Royal Harpist in August 2004 after passing the job's upper age limit of 25.
At the turn of the millennium, Catrin won the Young Concert Artists prize which brought with it three years of support and representation in the United States and further afield. Soon after, in March 2000, she made her debut at London's Wigmore Hall.
Catrin has performed across America and much of Europe as well as Thailand and the Far East and she has also won first prize in one of the most prestigious harp competitions in the world, the Lily Laskine International Harp Competition.
Catrin has worked closely with distinguished Welsh composer Karl Jenkins who arranged and composed a range of works for her for release on the Sony Classical label in 2003.
A fluent Welsh-speaker, Catrin is married to Hywel Wigley the son of her former harp teacher Elinor Bennett and former Plaid Cymru President Dafydd Wigley.
Click here for Catrin Finch profile page (on this site)