Violeta Ramos (Paraguayan harp), Richard Schneider (Guitar)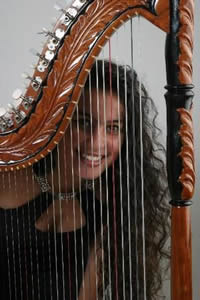 Violeta Ramos was born in Buenos Aires, Argentina, in 1974. She currently lives in Switzerland.
Violeta is an interpreter of the paraguayan harp, whose teachers were, amongst others, Luis Bordón, Chochín Balbuena and Nicolás Caballero. She graduated as a classical guitar teacher in the Escuela de Bellas Artes in Quilmes (Buenos Aires, 1989-1999). She also studied folklore, tango and jazz in the school for popular Music in Avellaneda. (1995-1999). She studied composition with electro acoustics in the University of Quilmes (1992-1995) as well as courses on improvisation in the San Martin Cultural Centre and "folklore and tango" with Hilda Herrera, amongst others.She studied ancient music in the Academy of Basle Choral Music, in Basle, with Heidrum Rosenzweig (Switzerland 2003-2005).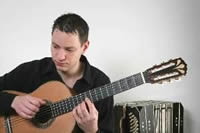 Richard Schneider was born in Braunschweig (Germany) on the 25th of April, 1974. He has lived in Zug since the year 2000 as a Swiss citizen.
Richard Schneider received his first classic guitar lessons from his father which was then followed by choral activities before he turned towards the jazz guitar, taking private classes. After graduating at the Städtische Musikschule Braunschweig (Municipal Music School of Brunswick), he studied the jazz-guitar and instrumental pedagogic at the Musikhochschule Köln (Music University of Cologne), graduating in 1998 with diploma. At the same time as he started studying, he became a member of the tutoring institution Jugendjazzorchester Niedersachsen (Youth Jazz Orchestra Lower Saxony) under the direction of Bernhard Mergner and the Bundesjazzorchester (Federal Jazz Orchestra) under the direction of Peter Herbolzheimer. His Jazz guitar teachers were Dietmar Osterburg, Eddy Marron and Werner Neumann. He received further training by the guitar players Andreas Becker, Joachim Schütte, Thomas Brendgens-Mönkemeier, Frank Nimsgern, Peter O´Mara, Uwe Kropinski, John Stowell and Frank Haunschild and by other instrumentalists like Otto Wolters, Michael Küttner, Martin Classen, Cees Kranenburg, Bruno Castelucci, Tom van der Geld, Manfred Schoof, John Ruocco, Thomas Stabenow, Kenny Werner, Walter Norris, Mike Richmond and David Liebman. Following his interest in music from different cultures he learned to play the Turkish stringed instrument Baglama. His fascination for Argentinean music took him to Buenos Aires, where he took a postgraduate course (1998-1999) in the subjects tango, traditional folk music and jazz at the "Escuela de música popular de Avellaneda". He also took lessons in classical guitar and Argentinean music at the "Conservatorio superior de música Manuel de Falla". In Argentina, among his teachers were the guitar players Osvaldo Burucuá, Javier Cohen, José Verdi, Hugo Romero and Aníbal Arias. At the present time, Richard Schneider is learning to play the bandoneon. He also gets classic guitar studies.

Please visit the duo's multi language web site for more information.