Sleeve Notes
Cwlwm Cân
Delyth, Siân A Thelynau Bro Ystwth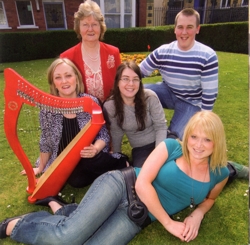 The Harpists
This is a unique recording by five harpists from Ceredigion, under the guidance of Delyth Evans, Telynores Mynach and Sian Ifan Price, Telynores Bro Ystwyth.
Born in Devil's Bridge, Delyth studied the harp with Alwena Roberts and at London's Royal Academy with Osian Ellis, before working in Ceredigion as a harp tutor for more than 30 years. She has created several harp ensembles , many of which have been acclaimed at London's Festival Hall National Youth Music Festival.
Sian Ifan Price, Telynores Bro Ystwyth, won her first national award as a harpist in 1983, when she was only 6 years old, and since then she has won many more, and performed at London's Festival Hall, and during the British Schools Proms at the Royal Albert Hall. She works as a harp teacher in Ceredigion schools.
Elen Mair Evans went to Ysgol Penweddig in Aberystwyth, and learnt the harp under the tutorship of Delyth Evans. She now studies music at Sussex University, and is tutored by Manon Morris at the Guildhall School of Music.
Gwawr Eleri Jones began playing the harp when she was 7 years old, and is now a student of Welsh and Music at the University of Wales, Bangor, hoping to carry on with her career as a harpist.
The fifth member of the ensemble is 16 year old Llywelyn Ifan Jones who attends Ysgol Gyfun Aberaeron. In 2005 he won the under 16 harp solo at the National Cerdd Dant Festival and the Dyfed Young Musician of the Year competition.
Credits
Recorded at Morfa Chapel, Aberystwyth, in April 2007.
The Salvi harps played are- Arianna, Diana, Scolpita, Aurora, Orchestra and Eire.
Production and mastering Siwan Lisa Evans
Engineering Sion Alun Jones
Photography Keith Morris www.artswebwales.com