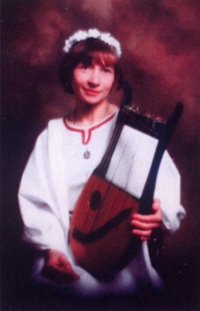 Marika de Pettes was born in Oxford of Hungarian parents. She lived with her mother and sister, mostly in London, until the age of fifteen. Her mother started tutoring her on the piano at the age of four, and she was accepted into Trinity College of Music as a Saturday child scholar at the age of eight. She started violin lessons, playing in the school orchestra, singing in the choir, while also being introduced to composition by her mother. Marika became a gifted pianist and composer, writing for stage plays, winning competitions throughout school and in the London, Perth and Edinburgh music festivals while also playing violin in the Perth Symphony Orchestra led by Hungarian conductor Bela de Csillery. Marika was accepted and graduated in the Royal Scottish Academy of Music Professional Music course. She then went on to tutor piano at Kilgraston school while also taking on the role of composing incidental music for stage productions at the school. She was now experienced in composing Sacred music, writing several masses and smaller works encouraged by the late Holy Father Pope Paul VI who accepted some of her dedicated work to him and the church. She took up organ lessons, studying in the Cathedral of St Ninian's in Perth while continuing her passion for violin within the Perth Symphony Orchestra and within a year she had achieved a Postgraduate in Teacher Training, attending Craiglockhart College of Education.
It was in this Postgraduate year that Marika's interest in the Lyra grew, with the hope of reviving the instruments popularity for 3 important reasons; biblical, historical and educational. She incorporated this into her research work as part of her training, and composed the music to the stage version of the Life of St cecilia, using a cardboard template of a Lyra as a compromise to the real thing. Prior to that, she had been so moved by a picture of St Cecilia playing a Lyra, she was motivated to bring the instrument back to the public's interest. Then two primitive mahogany Lyras were made by the craftsmen of Kilgraston school, one of which had cow's horns given by the butcher in Merchiston, Edinburgh. During Marika's twelve year class teaching in and around perthshire, she spent three years being tutored by the late Sanchia Pielou, acquiring a small pedal harp from an antique shop in Perth.
The first professional 15-string Lyra was made in 1972, from pine and sycamore, by John Hoare (who now represents Pilgrim Harps) who was then an apprentice with Wilfred Smith Harp manufacturer. It was a birthday gift from her mother, completed in time for Marika and her mother's first pilgrimage to the Holy land where she accompanied the hymns on the Lyra, and later in the Basilica in Rome, both in a Folk group for Evening Mass and solo in the crypt. A second bigger Lyra with 22 strings and levers was fashioned three years later in1975. both Lyras were played regularly at alternative days, and in the chapel, home and for the pupils. She was now expanding the repertoire for the Lyra, setting a number of Psalms to music and composing solo pieces and duets for the Lyra and flute. She composed and orchestrated her first Overture in 1980, after her experiences in ancient Rome. She has also written a cycle of 16 poems, inspired by the Lyra and harp entitled "Music from the Woods". In 1988 Marika made a professional recording for the Lyra during the Glasgow Garden Festival, while also performing there on piano and organ, and was then invited to play the Lyra for The Beechgrove Garden on Radio Scotland. In 1984 Marika founded The St Cecilia Mission Fund, raising funds for British homeless day centres, third world relief, Bible Lands Aid and LEPRA. She now regularly plays organ in the church.
The Lyra never leaves Marika's side -in recent years, she has contributed her Lyra playing in the Edinburgh International Harp Festival, "A heavenly experience" she says, enjoying learning new music and the social aspect. "We are always learning". Her compositions have included; a selection of celebration songs; carols sung and recorded for Radio Clyde at Paisley Abbey; an Advent Mass; a suite of piano pieces based on the Nativity, "Starry Snowflakes" (Piano Fantasia) and twelve Butterfly Pieces for Piano, eight of which are already published, intended for a Children's Ballet.