Sleeve Notes
Clarsheree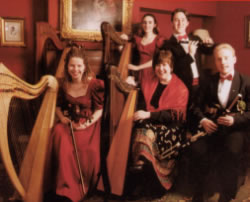 Clarsheree are five Irish musicians performing on 4 harps, a harpsichord, uilleann pipes, 2 flutes, 2 whistles, a concertina and a bodhrán.
The name of the group comes from the Irish word "cláirseóirí" meaning "harpers" which is an eminently appropriate name for this lively contemporary group whose focus is on Ireland's most illustrious folk and chamber music tradition.
Turlough O Carolan has provided the inspiration and almost all the melodic material for Clarsheree's first album. O'Carolan was born the son of a subsistence farmer in Nobber, Co.Meath in 1670; moved with his family to the MaDermott Roc estate in Ballyfarnon in County Roscommon 14 years later; became blind as the result of smallpox at the age of 18; and having studied the harp for only three years, he set out in the tradition of the travelling harpers in Ireland to eke out his living. O'Carolan was known not to be a good performer on the instrument but he assured his welcome in each "big house" that he visited by composing a song for a member of the household. The song texts were generally fairly poor in quality, but what made O'Carolan's compositions so popular and famous, were the melodies. Over 200 of his tunes have survived through various sources, including the oral tradition (particularly in the piper's repertoire), various manuscript collections (including those of Edward Bunting) and the 1748 Dublin University publication of 28 of Carolan's tunes.
It is often a surprise to consider that O'Carolan's life exactly preceded that of the great Johann Sebastian Bach by fifteen years, yet his music shares the same timeless quality that is certain to be performed and reinterpreted by every following generation. A number of O'Carolan's tunes recorded on this album arc well known, but others are rare and recorded here for the first time. The final song on the album, Mo Ghile Mear, is not composed by O'Carolan but was contemporary with him.
Feasting with Carolan is not a purist portrayal of historical music, rather a contemporary revelling in the treasure of Irish melody that is inherited from O'Carolan.
Clarsheree maintain a great respect for the history but at the same time infuse a fresh vitality and depth that is sure to excite harpers and Irish music lovers over the world.
The five members of Clarsheree are also members of the larger group, the BELFAST HARP ORCHESTRA (over 25 members), and comprise part of the senior, professional section of the orchestra.
Clarsheree members are
Janet Harbison on Vocals, Harp and Harpsichord
Patrick Davey on Uilleann Pipes, Flutes, Whistles and bodhrán
Michael Rooney on Vocals. Harp and Flute
Grainne Hambly on Vocals, Harp, Concertina and
Suzanne McAlindon on Harp
Programme Notes
Planxty Johnston
The word "planxty" is thought to have evolved from the Gaelic verb "to pluck strings" and generally denotes a jolly praise-piece dedicated to a particular patron. Here, it is Baptist Johnston of Tully, County Monaghan who is being celebrated its music. He was High Sheriff of his county in 1728 and MP for the borough of Monaghan between 1747 and 1753.
Saely Kelly
Saely or Susanna Kelly was notated from the harp playing of Charles Byrne by the young Edward Bunting, the transcriber attending the harpers at the famous 1792 Harpers Assembly in Belfast's Exchange Rooms. There is, however, an element of doubt as to the fact that O'Carolan was the composer of this piece. Charles Byrne attributed it to O'Carolan, but in another part of his work, Bunting attributes it to Connellan, a harper-composer of a century earlier.
Morgan Magan
Commencing with the harpsichord, we draw on all our resources for this wonderful tune which O'Carolan composed and dedicated to Morgan Magan of Togherstown, County Westmeath.
Elizabeth MacDermott Roe (song)
Elizabeth MacDermott Roe is thought to have been the daughter of Betty of the family on whose estate O'Carolan's father was the blacksmith in Ballyfarnon. County Roscommon. She is the ''Iníon Rúairí Óg", the daughter of Rory Oge of the verse. Elizabeth married Robert Maguire of Tempo, County Fermanagh, another family for whose members O'Carolan dedicated a large number of tunes. O'Carolan himself married a Mary Maguire from close to Tempo, and Janet's grandfather Harbison's first wife was another Mary Maguire of the famous Tempo family. Historically even, Ireland is a small country!
Lady Dillon and jigs.
Although Edward Bunting gives the name Rose and the christian name of the lady to whom this tune was dedicated, she was in fact the Lady Frances Dillon who was the daughter and heiress of Lord and Ladv Dillon of Mannin. The Lady Dillon had formerly been Lady Bridget Burke, second daughter of the 9th Earl of Clanricard. A number of other Carolan tunes were dedicated to members of both families. The first jig played after "Lady Dillon" is O'Carolan's jig composed to accompany the tune - but we add two more entitled "Larry O'Gaff" and "Banish Misfortune".
Carolan's Concerto
This piece was composed as the result of a dual of musical mastery between the impudent O'Carolan and the Italian maestro Geminiani who was working in Dublin in the early 1700s. O'Carolan's piece was directly influenced by one of Vivaldi's violin concertos which is imitated in the opening sequence. Later, O'Carolan dedicated the rune to Mrs Power, presumably the mother of the famous Fanny Power for whom O'Carolan composed another famous piece.
Edward Corcoran
This tune was found in Petrie's collection where the journey of its notation is recorded: "The tune was obtained from Mr John Kelly assistant to Mr Griffith on the Ordnance Valuation of Ireland by whom it was copied at Listowel from a MS book of Irish tunes written by Mr John Shannon or Shanahan of that town who obtained it from Roche a distinguished fiddler of the county of Kerry". The transmission of the tune would already have passed through many musician's playing of it by the time it would have been notated from the time that O'Carolan composed it. Such is the nature of the oral tradition. The Edward Corcoran to whom the rune was dedicated has never been identified but the Corcorans were a Donegal family of note during Carolan's time.
Farewell to Music
When O'Carolan felt he was close to dying, he returned to Ballyfarnon, to the home of his first faithful patron, the now elderly Mrs MacDermott Roe. Here, it is said, O'Carolan "called for his harp, played this tune, and was then led upstairs to what was to become his deathbed". This must surely be O'Carolan's most powerful and personal composition. He was not aiming to please or flatter a patron, rather he was composing his own epitaph for himself. ln style, his "Farewell" harks back to the music of Ireland's more ancient harpers. We hear a lot less of the hybrid style with Italian art music so popular during O'Carolan's time which he consciously imitated and developed. Solo: Janet Harbison.
Hewlett (song)
"Sláinte Bhreagh Hiúlit" is a bawdy drinking song toasting Mr Hewlett and the generosity of his hospitality.
Sir Charles Coote
This piece was found in Edward Bunting's manuscripts where he noted the tune from the performance of the only woman harper, Rose Mooney, who attended the Belfast Harper' Assembly in 1792. The Cootes of Coote Hall in County Roscommon had the reputation of beittg brutal landlords, nevertheless, O'Carolan was happy to entertain any patron regardless of their politics.
Mo Ghile Mear (Jacobite song)
This song is one of the most powerful lamentations of the 17th century, and while it is usually sung by a man in a martial fashion, it is in fact a woman's lament for her love, a war hero, who was killed in battle.
Credits
With thanks to Donal O'Sullivan for much of the information on the music which was gleaned from his book "Carolan, the Life and Times of an Irish Harper" (1958).
All music arranged by Janet Harbison
Produced by Janet Harbison
Engineered by Patrick Dalgety. Cover Design by Donald Neil
Group photograph by Jeremy Rowel Friers.