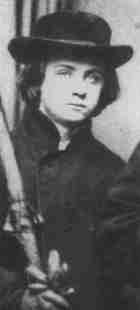 Edvard Grieg (1843-1907) is best known for his eternally popular piano concerto, as well as for more than 150 songs and 66 lyric piano minia-tures. He was born in Bergen, Norway, on June 15th, 1843. Like other great composers, his music is immediately recognisable. What is generally not remembered today is his strong Norwegian nationalism. During much of Grieg's lifetime (until 1905), Norway was under Swedish domination. Grieg was widely credited with con-tributing to the growing sense of nationalistic identity, which made Norwegian independence inevitable, and consequently himself a beloved national hero. His state funeral was attended by no fewer than 57 foreign heads of state.
ON THE VIOLIN AND PIANO SONATAS
Grieg professed a very special fondness for his three Violin Sonatas, always welcoming any opportunity to support them. He told the famed Norwegian author (and Nobel prize-winner) Bjornson in 1900, that he always considered them to be among his best works: "They each represent a period in my development: the first, naive, rich in ideas ... the second, nationalistic ... and the third, a wider horizon. They each have brought me great luck."The reference probably refers to a bleak time in Grieg's life, when a friend happened to show Franz Liszt a copy of Grieg's Violin Sonata in F, whereupon Liszt invited the unknown music student to visit him. Upon first meeting, Liszt eagerly seized the young man's portfolio, which contained drafts of his next Violin Sonata (G Major), among other works. After Grieg began to play, Liszt became so entranced by one of the melodies that he asked Grieg to repeat it several times. Then, unable to contain himself, Liszt pushed Grieg aside and took over, singing the violin part as well as playing it straight through to the end! With his reputation greatly enhanced with Liszt's rapturous endorsement, Grieg moved to the forefront of European cultural life.Although Grieg is primarily remembered as a composer of miniature piano pieces and songs, very few composers have written so well for strings. Peer Gynt displays his complete mastery of orchestral writing, and the Holberg Suite (1885) is a masterpiece of string writing technique and coloration. In 1889 and 1890 Grieg joined Lady Halle and Joseph Joachim for a series of recitals, where they performed all three of Grieg's violin sonatas (in the same programme order as this CD). These concerts helped popularise the Sonatas considerably.
F MAJOR VIOLIN SONATA No 1, OPUS 8 (1865) Grieg was especially partial to the F Maior Violin Sonata, composed when he was 22 years old. He referred to it as a student work though it ante-dates his study in Leipzig. Greig received national attention at his first major public concert, October 15, 1866, in Christiania. It was an historic event, mainly because it was the first concert to present an entirely Norwegian program. The press and public were unanimous in their acclaim, and Grieg's career was launched triumphantly.
G MAJOR VIOLIN SONATA No 2, OPUS 13 (1867) Grieg was living and working in Norway when he wrote the G Major Violin Sonata, Op. 13. His youthful nationalistic fervor made him determined to write a work full of Norwegian folk idioms. There was perhaps an even better reason for the works joyfulness: it was composed during his honeymoon! After the Sonatas premiere, Grieg's friend and fellow composer Gade, advised him to make his next violin sonata sound "less Norwegian" - to which Grieg replied that he would "try to make it even more so!" However, that was not to be the case.
C MINOR VIOLIN SONATA No 31 Opus 45 (1887) Twenty years passed before Grieg composed his third and final Violin Sonata in C Minor, Op. 45. His international success had a marked effect on his compositional style, which was beginning to sound less provincially Norwegian and more in the Classical European style. Its boldness, sweep, and decidedly more main-stream European approach have made it the most popular of the three Violin Sonatas. In preparation for the premiere, Karel Hoffmann, a Czech chamber musician, wrote "despite his neuralgia, rheumatism and many health problems, Grieg was an excellent pianist who played with incredible temperament. He played the fast parts wildly, then wanting extremely slow expressive sections."
"VED MANNJEVNINGEN, MARSJ" Opus 22, No 2 (later published separately as Opus 56, No 1) In 1872, Grieg composed some incidental music for Bjornson's play Sigurd Jorsalfar, which reused some parts from the orchestral Suite, Op 56. When transferred to the Sigurd score, the Suite's gavotte became a march, or Norwegian gangar, called "Ved Mannjevningen, Marsj" ("At the Matching Game").This compact disk contains the first recording of the Sigurd Jorsalfar march.
Credits
Producers: Peter Thomlinson (UK) and James Shulman (US)
Recording Engineer: John Taylor
Sound Editor: David Walters
Artists' photo: Karen Tweedy-Holmes
Photographs of Greig: Grieg Museum, Troldhaugen
Cover: Edvard Grieg and Nina by P.S. Kröyer, The National Museum, Stockholm
Page 4 of booklet: "Greig at Home" by Peterssen, 1890
Graphic Design: Barbara Mangos
        
Recorded at Potton Hall, Suffolk, England during June, 2001. A single pair of Royer SP1 Ribbon microphones were used, into a Millennia HV-3D Preamplifier and Apogee AD-1000 20-bit Converter with UV 22 Process.
Special thanks to: Joyce Edling; James Shulman; John Howard of the Edvard Grieg Museum, Troldhaugen; the Musikbibliothek der Stadt, Leipzig, for providing facsimilies of the original manuscripts and the first editions from the C.F. Peters Music Archives; Alan Foster of Potton Hall; The Grieg Society; and to Cora.