Sleeve Notes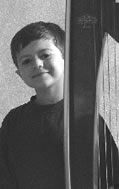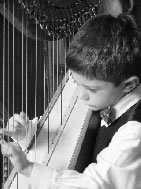 Benjamin was born on 4 June 1996 and he started to learn to play the harp when he was 4 ½ years old. Ben Jammingwas recorded during the Summer of 2003 to help raise money for Benjamin's third year of supporting BBC Children in Need.
Being only 7 years old Benjamin does not normally accept performance bookings but he is always delighted to give short recitals at any charity events or at non charity events where he can collect money for his chosen charity BBC Children in Need.
Benjamin has two harps. His first harp is a 34 string concert strung Clasarch. This is fantastic, professional quality lever folk harp beautifully made by Pilgrim Harps. It's size just happens to make it an excellent instrument for young children to learn on. Benjamin has developed a passion for Blues & Jazz so in April 2003 he tried a Camac 36 string Electric Harp. Telynau Vining Harps (Cardiff based Camac distributors) have very kindly leant Benjamin one of these instruments while Camac are developing a new model. Benjamin is destined to be the owner of the first new model of the 36 String Camac in Autumn 2003.
Credits
Huna Blentyn & Ole were recorded at Albany Studios, Cardiff on 4 September 2003. New Blues was recorded live at the Stag Owners Club National Day Dinner, Hilton Hotel, Newport on Saturday 16 August 2003. Nataliana & Booming Boogie were recorded at home in August 2003. This single would not have been possible with out the support of Albany Studios, BBC, Gail Barber, Camac Harps, Deborah Henson-Conant, Ann Griffiths and Pilgrim Harps. Benjamin would also like to thank his harp teacher Eluned Pierce & everyone else who has provided so much help and encouragement over the last year.
Cover design, photography & production by Creighton's Collection
244 Cathedral Road, Cardiff, CF11 9JG.